NOTE: A GOOD internet is connection required to download. These are very large files!
File sizes and contents will be added in correctly soon
2k: 1.4GB
4k: 3.3GB
8k: 9.3GB
Stone Brick Texture Bundle Pack - 27 High Quality Textures
Welcome to our first ever iMeshh Bundle Pack. This is a beta test to check website performance delivering very large files efficiently across the globe, to ultimately see if bundle packs are something we can continue to do going forwards. Fingers crossed! 
What better way to kick off this release than with a stone & brick texture pack! This pack contains 27 high quality seamless bricks and walls to be used in your next environment or archviz 3D scene project.
Every stone wall texture comes seamless with all the correct maps required for the PBR workflow. This includes Diffuse, Roughness, Normal and Height maps so you know every stone wall will render beautifully out of the box
These walls are scanned in both central England and around Eastern Austria. Having both offers a nice variety of brick from both the East and West of Europe. Some limestone stone wall textures differ slightly depending on region.
8k Seamless Stone Brick Texture Pack
All textures come with an 8k maximum resolution. We find that 8k is the limit most archviz artists need for 99% of all projects. 16k is only good for direct immediate closeups of a wall which is quite rare in archviz, let alone the incredible computer resources required by 16k textures.
8k will give you incredible detail right up until about 30cm away from the object, and as you can see in the image below, shows the individual pebbles of this full texture!
All stone wall and brick wall materials are between 1.8 and 2m in size, which is perfect for most interior or exterior walls.
Not only have we made large seamless stone wall textures to cover full walls, but we have also made sure to keep all the textures as clean as possible. Clean here is referring to the removal of large obvious points of interest on the texture.
By removing these areas, it makes it harder for the eye to see any repetitions when the texture is inevitably tiled.
Here is a quick example of a cleaned seamless stone wall texture.
Here is an example of an un-cleaned seamless stone texture. Your eye immediately locks onto the repetition which then takes away from the realism. Yes it is seamless but it doesn't have the same effect as the example above.
Comes with Blender Material Nodes Set Up
All stone wall and brick wall materials are ready out of the box with a .blend file containing the necessary setting to render perfectly.
Yes, it is easy enough to simply plug in all the maps and hit render, but often times the material requires tweaking to render like in the previews you found online.
A common problem is displacement maps and ensuring the material has the correct settings (Bump & Displacement enabled) with the correct height and strength values. The default value in Blender is a displacement strength of 1 which is usually far too much for stone or brick wall textures.
By having ready made .blend materials, everything will render instantly after appending.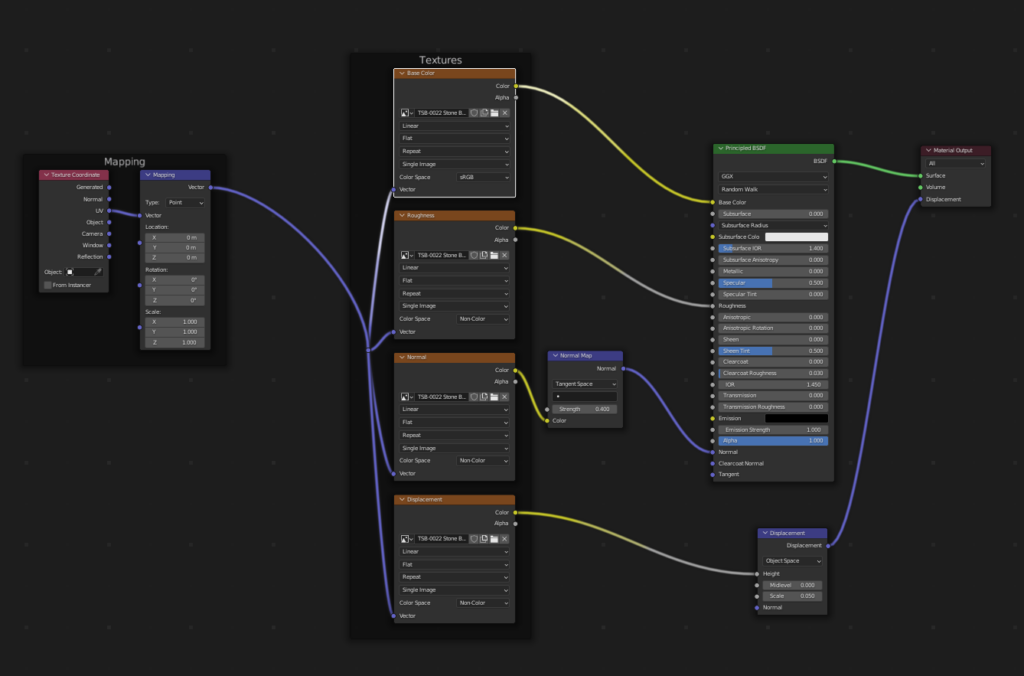 Photoscanned Stone Brick Wall Textures
All stone wall and brick wall textures are photoscanned and baked down from around 600 MILLION polygons, so you can ensure your normal maps and height maps are going to be incredibly detailed.
We take between 300 and 600 photos per wall with high quality cameras, lenses and equipment, and process them using the best photogrammetry software.
Add incredible detail to your next Archviz render
By using our textures without the diffuse map gives a photorealistic painted wall texture effect. This can not be achieved without very high quality normal and displacement maps
Or simply use the textures like normal and make an incredible archviz render, as seen on our latest Youtube Promo video!
Of course, these textures along with all other assets on imeshh.com are royalty free. You can use them freely in both Commercial and Personal projects (just don't resell or redistribute).