iMeshh Blender Asset Manager 3.0 🚀
The latest version has finally arrived ❤️
Common bug fix for library not displaying in the asset manager – SCROLL DOWN TO RED TEXT FOR FIX
We are working on a new version of the asset manager, and this bug will be fixed 🙂
Features of the FREE iMeshh Asset Manager 3.0 addon for Blender
The easiest folder structure method
Our Asset Manager uses your computer folder structure to organise your assets.
This is the most simple and easiest organisation method, especially as Archviz artists because you'll  regularly download assets from multiple online resources. You don't need to recategorize each product twice like with the Blenders Asset tool.
Simply save your assets in the folder (category name) of your choice, and our Asset Manager will display it!
Ground your objects in reality with our advanced HDRI panel
Our Asset Manager lets you add HDRIs, but it also lets you adjust every aspect of them!
This is one of the greatest aspects of our asset manager and some users download this addon simply for this tool alone!
You can do things like:
Ground Projection
HDRI strength, split into independent values – Diffuse, Glossy, Transmission
HDRI Colour management
Background replacement
Colour temperature and tint
To add a thumbnail image, simply add it next to your .blend file with the same name. No need to assign any images manually! If there is only 1 .blend file, it will use whatever image is in there!
If your thumbnail is missing, it will automatically use the Blender Generated Preview image!
Lightning fast search bar
One of our latest updates, the asset manager now has a search bar!
You can search your entire library for a specific name and the asset manager will present all the options in seconds.
The List goes on with our latest 3.0 features.
Completely free
Totally rebuilt from the ground up
Much more user friendly preferences
Snap on import – Append and drag into place
Add as many top level directories as you like! Simply press the + icon and add a directory, then tell it what type of folder it is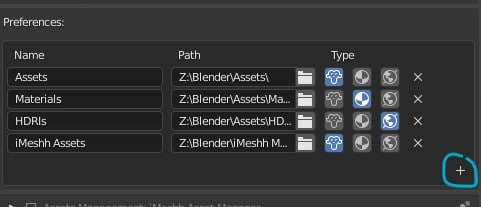 Includes an "All" category to view absolutely everything inside that specific folder and below
Open the thumbnail in original size and open each .blend file directly from the asset manager
iMeshh website button to get quick access to more freebies
Link assets to the scene
Add assets to the cursor
Import selected materials from either a single material file, or all materials from another object
Automatically imports objects into its own collection for very quick Collection Instances!
Now with larger preview thumbnails (maximum size Blender allows)
The HDRI video below is a little old, but the HDRI section is still very relevant
Common bug fix: If you add your file path inside the asset manager preferences, sometimes it adds the path relative – often with portable versions of blender. If that happens the file path will be written like the image below with lots of: //…\\.. – THIS IS WRONG
FIX: Very easy, when you click the folder icon, in the top corner is a gear icon. Click that and make sure relative is unchecked.
IF YOUR FILE PATH STILL LOOKS LIKE THE IMAGE ABOVE after clicking accept then simply go to your operating system normal file explorer and physically COPY the file path of your assets and PASTE it into the path field.
The Path field in the iMeshh Asset Manager should display the whole path – Z:\blender\your path\etc OR C:\user\documents\yougetheidea NOT \\..//…\Assets

01.05.2022 3.0 Update
Totally rebuilt from the ground up
No more need for the very specific folder structure for your blend files
Search bar
Much more user friendly preferences
Snap on import
Will use Blender auto-generated thumbnails!
Unlimited number of sub-categories for your asset library – Simply press the
21.10.2020 – v0.2.79 – Big update!
Bringing addon updated to 2.9
Allow users to Append assets
Allow users to import an object at the cursor
Fixed errors with categories not displaying
Various other bug fixes
29.10.2020- v0.2.81
Minor bug fix which caused Blender to crash when using material preview after appending or linking old assets
31.10.20- v0.2.9
Advanced HDRI settings. 
This huge update will allow you to adjust and fine tune all the HDRI settings including Ground/Dome Projection (this is beta), HDRI strength settings for all light path values, colour management and background replacement.
Simply find the HDR you want to add, and then click Import HDR and it will import this and the settings will display.
05.11.20- v0.2.97
TABS! We now allow users to select different paths which contain their 3D assets, materials and their HDRIs. The user can then quickly switch between them and this will drastically decrees the time it takes to select the new assets
These tabs are a huge update and we are so happy we could add this method of organisation to our asset manager. We hope it increases the workflow for their Blender projects considerably!
02.12.21 
We are planning a full re-build of this asset manager right now and hoping to bring out the next big update in a couple of months. If you have any feature requests then please get in contact so we can add it to the list!
NOTE: Known error with Mac OS, it may not import or display products correctly. We are looking into this.


Install the asset manager by clicking "install" under preferences, and load in the entire .zip
Choose your asset library main folder or folders. 
Choose your material library folder or folders.
Choose your HDRI folder or folders
It will use your computer directory for displaying the categories! No messing around
Click Append or Link to add your chosen asset into the scene
Why don't I just use the new Blender Asset Browser?
Let's not forget, the new Blender Asset Browser is incredible and is a great addition to Blender for asset management. The fact it comes with Blender is amazing!
So what's the problem?
As long time Arch-Vis artists, we have built huge libraries of Assets and blend files from countless sources; iMeshh, Blender Market, BlendSwap, Turbosquid, CGtrader, etc. Some assets are 8-10 years old! But these models and assets still have their place and we use them regularly. These assets do not work in the new Blender Asset Browser without manually going into each .blend, assigning the models as an asset, then assigning any thumbnail manually, resaving AND THEN choosing which category you want it to go into.
Now, this is amazing for some workflows especially with new assets which have been marked as assets correctly…
However, lets not over complicate asset management for archviz, you have a folder with a .blend which contains everything you need and is already perfectly categorised in your computer directory. So lets use this directory that already exists! Because lets be real, when you have 1000's of assets, chances are you already have each asset in a nice specific folder that is easy to find. 
Our iMeshh Asset Manager is a no fuss simple solution to display your .blend file in the ALREADY CREATED categories made on your computer. 
If you choose to use the Blender Asset Browser then absolutely go for it, its an amazing tool! If you want to try the iMeshh Asset  manager then lets do it! Try out both and see what type of asset management works for you
Why do you need an asset manager in Blender 3.0?
Asset managers addons for Blender or any 3D software are incredibly useful when you start working professionally or if you start using the same assets very often, even as a hobbiest or student.

Going to File>Append does work fine, but this can very quickly add on many hours of wasted time after a few projects.
Asset manager plugins also allow you to more easy organise your products into easy to manage categories so finding and adding an asset would be far far quicker than doing it manually.
The goal with the iMeshh asset manager is to eventually become personalised to the individual user with different types of needs. We understand that everyone has their own workflow, and to create a tool which other 3D artists can use for their own jobs in a unique way would be a great achievement. Whether this is how they organise their folder structures, or materials, there should be a way to speed up all of these aspects.
At iMeshh we have worked professionally in the industry for many years and built our own asset libraries which push well into into the Terabytes or storage. So we know exactly what we require from a good asset manager to organise all of these assets. 

And, at the time of writing this, iMeshh has over 800 assets and organising those is no small feat. 

We also greatly understand that people use their asset managers not just for arch-vis but for kitbash, sculpting, game assets and other areas, so we want our asset manager to cater to all of these.
So if you're looking for a Free Blender Asset Manager which will be developed consistently going forward to streamline your workflows into the future then give it a download and see what you think. It is totally free and we would love to know what you think!
It currently works with the most recent version of Blender, along with, of course Cycles and Eevee.